𝟮𝗻𝗱 𝗡𝗮𝘁𝗶𝗼𝗻𝗮𝗹 𝗖𝗼𝗻𝗳𝗲𝗿𝗲𝗻𝗰𝗲 𝗼𝗻 𝗛𝗶𝗴𝗵𝗲𝗿 𝗘𝗱𝘂𝗰𝗮𝘁𝗶𝗼𝗻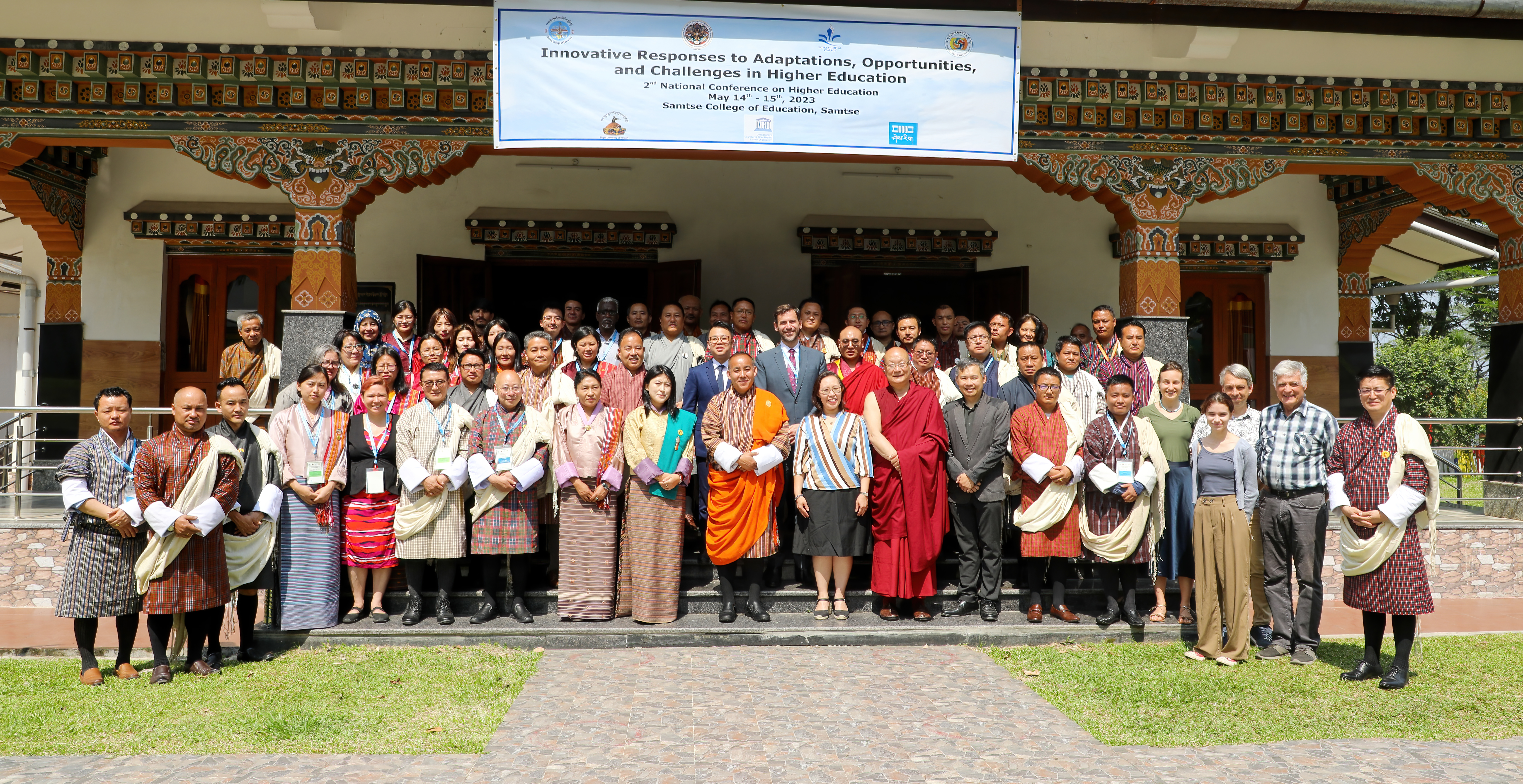 The Second National Conference on Higher Education, jointly organized by Samtse College of Education, BQPCA (MoESD), Royal Thimphu College, and Paro College of Education, concluded successfully after two days of engaging discussions and productive collaborations. Held on 14th and 15th of May 2023, the Conference brought together a diverse range of participants from various educational backgrounds, including esteemed representatives from UNESCO, the Project Panoptes team from the United States, distinguished individuals from higher education institutions (HEIs), principals and teachers from nearby schools in Samtse Dzongkhag, and teacher educators and students from the College. The event served as an excellent platform for exchanging innovative ideas and fostering global cooperation in the field of education. The first day of the Conference was graced by the presence of the Honorable Minister of Education and Skills Development.
In the welcome address by the College President, Dr. Rinchen Dorji shared that the Conference aims to provide a platform to share innovations, adaptation, and learning challenges in higher education teaching, learning and assessment practices in Bhutan. He further articulated that the educators must exchange good practices and promote cross-pollination of ideas in reference to higher education and explore the avenues to discover new strategies and means of collaboration and networking among higher education institutions and other agencies within and outside Bhutan to build a vibrant professional community of practitioners for the credibility and visibility of higher education institutions in the country. The guest of honour His Excellency the Minister of Education and Skills Development  highlighted the need to realign our educational practices with the recent technological advancements such as artifical intelligence (AI) and the recent development of the use of ChatGPT. His Excellency specifically emphasised the need to harness and capitalise on the benefits of applying AI such as ChatGPT to our advantage in making learning relevant and effective  instead of viewing this as a threat in education system.
The two-day Conference featured renowned keynote speakers and a diverse range of higher education discourses. The Conference aimed to explore new ways to reinvent higher education and facilitate transformative changes in the field. This report provides an overview of the keynote addresses and highlights the breadth of higher education areas   deliberated during the event. The keynote speaker Dr. Wesley Teter, Senior Consultant for Educational Innovation and Skills Development at UNESCO, presented a keynote on "New Ways to Reinvent Higher Education." Dr. Teter focused on innovative approaches to address the evolving needs of learners and the changing landscape of education. He emphasized the importance of leveraging technology, fostering interdisciplinary collaboration, and promoting lifelong learning to enhance higher education.
Dasho Tshering Gyaltshen Penjor, Secretary of the National Land Commission (NLC), delivered his keynote address entitled "Transforming Higher Education in Bhutan." He shared insights into Bhutan's efforts to reshape its higher education system to meet the demands of a rapidly changing society. Dasho highlighted the importance of incorporating Bhutanese cultural values, promoting holistic education, and enhancing research and innovation in higher education through the development of curriculum that is dynamic, forward-looking, and timeless supported by a proportionate financial support to develop infrastructure and lifelong learning of the higher education academics as part of the long-term goals of the country's higher education.
Dr. Pinky Jain, Head of Teacher Education at Leeds Beckett University, UK, delivered a keynote address on "Emerging Trends in Teacher Education." Dr. Jain discussed the critical role of teacher education in preparing educators for the future. She emphasized the need to adapt teacher training programs to address emerging challenges, including technological advancements, multicultural classrooms, and evolving pedagogical approaches.
The Conference featured a wide range of research topics that showcased the diversity of scholarship and innovation in higher education. Some notable areas of research included were Enhancing Student Engagement, Curriculum Design and Pedagogy, Educational Technology and Digital Learning, and Quality Assurance and Accreditation
Dr. Sonam Rinchen, Dean of Research and Industrial Linkages of Samtse College of Education (SCoE) said that participating in the conference provided a diverse range of innovative ideas that can serve as valuable guiding tools in the realm of teaching and learning. According to Mr. Karma Gayphel, a lecturer at SCoE, attending the national conference not only allowed for significant enrichment but also presented a unique opportunity to establish connections with scholars and academicians, an experience that he considered immensely valuable. Ms. Dawa, an in-service teacher currently pursuing her MEd at SCoE, expressed her appreciation for the National Conference. In addition to gaining invaluable insights, she considered herself fortunate to witness the process and organization of a National-Level Conference. Ms. Dawa emphasized that the Conference provided her with endless ideas that she can now implement in her own school, contributing to the advancement of teaching and learning practices.
The International Conference on Higher Education Innovation and Transformation provided a platform for prominent keynote speakers and researchers to share their insights and findings. The keynote addresses by Dr. Wesley Teter, Dasho Tshering Gyaltshen Penjor, and Dr. Pinky Jain offered valuable perspectives on reinventing higher education, transforming education in Bhutan, and emerging trends in teacher education, respectively. The Conference also showcased a diverse array of research topics, highlighting the breadth of scholarship and innovation in higher education. The event stimulated discussions, fostered collaborations, and encouraged participants to explore new ways to advance the field of higher education.
The participants of the two-day National Conference were provided with scrumptious lunch and refreshments throughout the event. The organizers ensured that the attendees had access to a variety of delectable food options that catered to different dietary preferences and restrictions. The lunch breaks provided an opportunity for participants to network, engage in informal discussions, and recharge for the subsequent sessions. Additionally, refreshments such as coffee, tea, and light snacks were readily available during the Conference breaks, offering attendees a chance to relax and rejuvenate during the event. The provision of tasty meals and refreshments contributed to the overall positive experience and comfort of the conference attendees.